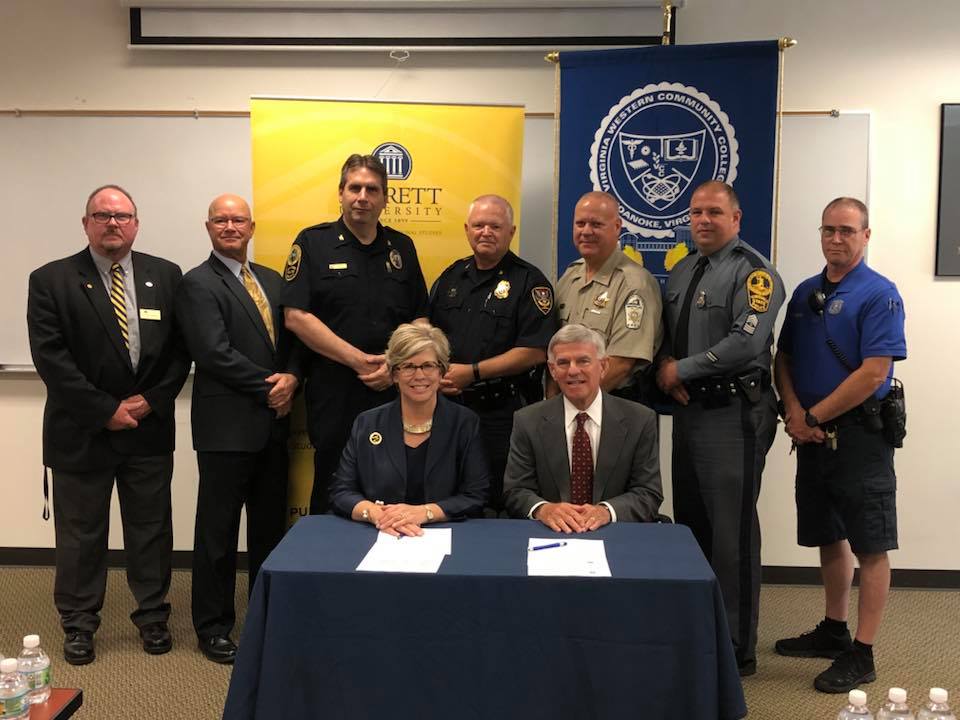 Today, Averett University President Dr. Tiffany M. Franks and Virginia Western Community College President Dr. Robert Sandel made history as the first partnership between the two schools became official. The presidents signed an articulation agreement making it easier for students who start their education at Virginia Western to complete their bachelor's degree at Averett.
The articulation agreement allows for students who have completed their Associate in Applied Science degree in administration of justice from Virginia Western, with a cumulative GPA of 2.0 or higher, to transfer to Averett to complete their Bachelor of Science in sociology/criminal justice degree. The student will enter Averett with a junior status and can expect to graduate after completing a minimum of 60 credits at Averett.
"We are excited to enter into a new partnership with Virginia Western Community College. This is a wonderful opportunity for more students who wish to build upon their two-year degree and transition easily to a four-year university. This couldn't happen without a great partner school like Virginia Western," Franks said. "This agreement also expands Averett's footprint in the Roanoke area, where we have a Graduate and Professional Studies regional presence at the Roanoke Higher Education Center. We are delighted for the opportunity to serve more students from the Roanoke region."
The agreement allows for an orderly and smooth transition for students including many scholarship and financial aid options. Members of Phi Theta Kappa, the community college honor society, are automatically awarded a $2,000 Phii Theta Kappa Scholarship once they are admitted to Averett University.
"This is a tremendous opportunity for our students to seamlessly continue their education at such a fine institution as Averett," Sandel said. "We are very proud of the success of our administration of justice students and the large number of the region's law enforcement officers who have graduated from the program. Through this partnership, they will have expanded opportunities to gain valuable knowledge and skills to advance in the profession."
Additionally, the two presidents signed a Guaranteed Admissions Agreement/Community Educational Partnership Agreement stating that Averett welcomes and values the transfer students from VWCC.