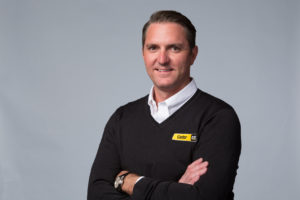 The Virginia Western Community College Educational Foundation has launched its second fundraising campaign to benefit Virginia Western's Community College Access Program (CCAP), a nationally recognized effort that provides up to three years of tuition to qualified Roanoke Valley high school graduates.
At an April 24 announcement, campaign co-chairman Neil Wilkin Jr. said the Educational Foundation aims to raise $6.5 million by 2021 to support CCAP. The first campaign to launch CCAP surpassed its $5 million goal in 2015 and greatly reduced or eliminated college debt for 2,200 students.
"CCAP is a transformative program that has been embraced by the entire Roanoke Valley," Wilkin said. "We look forward to working with our public and private partners in building on the program's powerful momentum."
CCAP provides "last in" scholarship support, filling any tuition payment gaps after a qualified student has applied for federal or state financial aid. The program funding is based on a 50/50 match: A locality pledges a specific dollar amount for its high school graduates in a given year; the Educational Foundation then raises a matching amount from private businesses, foundations, community groups and individuals.
A leading private donor, Carter Machinery Inc., was honored at the April 24 event and given the College's Community Impact Award for a $300,000 gift to support what's officially called the "CCAP2 Campaign: Renew. Re-charge. Re-imagine." Andrew J. Parker, CEO of Carter Machinery, and his wife, Kate, made the gift on behalf of the Salem-based company.
Carter Machinery is the authorized Caterpillar dealer serving Virginia and southern West Virginia with four divisions, including Earthmoving, Mining, Power Systems and Rental Services. Founded more than 60 years ago, Carter Machinery has grown from three stores into a network of 18 locations and 1,200 employees.
"Carter Machinery is dedicated to supporting the development of the next generation of leaders," Andrew Parker said. "We believe in the future of Virginia Western students and the Valley, and we invite others to join us in support of this transformational program as it enters its next phase of expansion."
Virginia Western President Dr. Robert H. Sandel expressed his thanks to the Parkers and noted the annual Community Impact Award is one of the highest honors that the College can bestow. "This gift supports the College's mission by enabling student learning and development in meaningful and extraordinary ways," Sandel said. "Make no mistake, it will leave an indelible mark on the CCAP program and the future of our region."
With the Carter Machinery gift, the Educational Foundation has raised $1.79 million of the $3.25 million in private support it is seeking during the CCAP2 campaign. It will continue its ongoing partnerships with Roanoke Valley localities to raise the public portion of $3.25 million over the next five years.
About the Community College Access Program
Since its founding 2008, more than 2,200 students have participated in the program.
CCAP serves the entire Virginia Western Community College service region, including the counties of Botetourt, Craig, Franklin and Roanoke and the city of Roanoke and Salem.
Participants are required to volunteer 4 hours of community-based service each semester. To date, they have given back 14,000 volunteer hours to area nonprofit organizations.
CCAP recently expanded to include tuition support for students seeking short-term, industry-recognized credentials in high-demand fields such as welding, mechatronics and pharmacy tech.
The average incoming grade point average of CCAP participants is 3.3. More than 75% enroll at Virginia Western with the intention of transferring to a four-year institution.
In 2014, CCAP was named a finalist in the Community College Futures Assembly's Bellwether Awards, in recognition of its pioneering effort to strengthen the local workforce. The program has served a model for similar programs, including New River Community College and Dabney Lancaster College.
For more information about Virginia Western's CCAP, contact Donor Relations Coordinator Amanda Mansfield at amansfield@virginiawestern.edu or (540) 857-6962. Go online to learn more about CCAP2 at www.virginiawestern.edu/makecollegepossible.