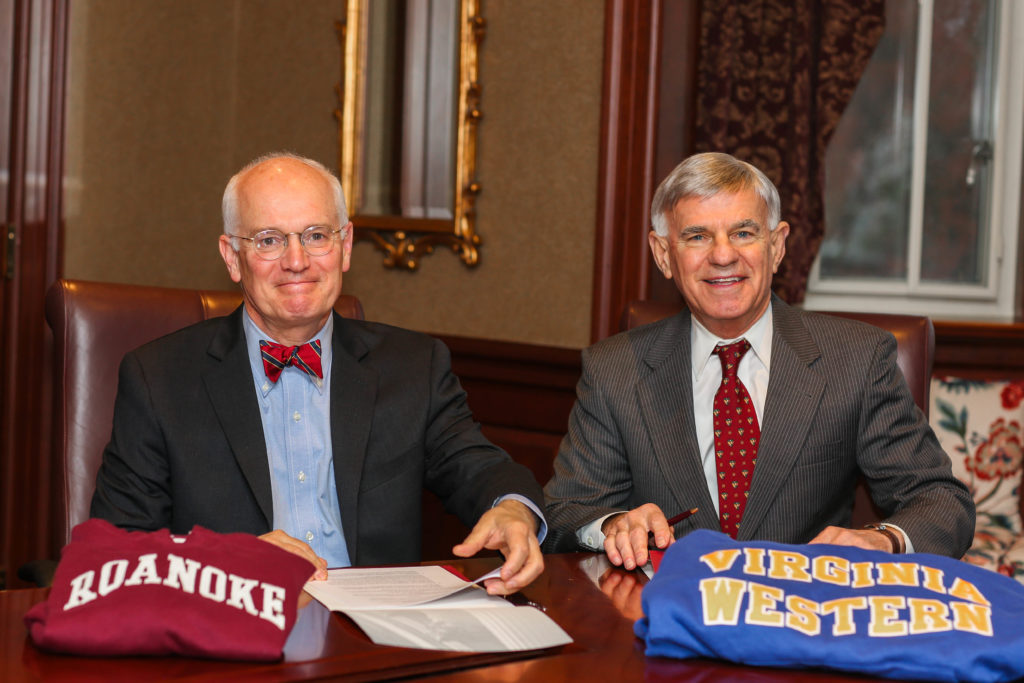 At a signing ceremony Monday, Virginia Western Community College and Roanoke College announced a new guaranteed admission agreement that will provide business administration students with a seamless transition between the two institutions. The transfer agreement took effect at the time of the signing.
"We are honored to work with our great partner Roanoke College to develop another way for our students to continue their educational pursuits," said Dr. Robert H. Sandel, President of Virginia Western. "The assurance that their credits will transfer will help those students plan for a strong professional future."
Virginia Western students who complete the requirements for an Associate of Science degree with a major in business administration and compile a cumulative grade point average of 2.2 in academically transferable courses will be eligible for the transfer agreement. For complete requirements, interested students should contact Virginia Western or Roanoke College.
"Virginia Western and Roanoke have been great partners for many years," Roanoke President Michael Maxey said. "Both colleges are committed to serving our students in first-rate ways. This partnership is one of the best examples of serving the many fine students who find Virginia Western and Roanoke to be the best fit for their needs and aspirations."
Both Virginia Western and Roanoke College business programs hold accreditations through the Accreditation Council for Business Schools and Programs (ACBSP). Virginia Western is the only institution within the Virginia Community College System with that accreditation.
Students interested in learning more about Virginia Western's business offerings and the transfer agreement should contact the School of Business, Technology and Trades at 540-857-7272 or visit www.virginiawestern.edu/academics/