Virginia Western Community College announces, with great gratitude for her service, that Deborah A. Yancey, Dean of the School of Business, Technology and Trades, has stepped away from the college due to health reasons. Yancey, who has been a fixture at Virginia Western for more than 20 years as a student, a professor and an administrator, has been bravely battling cancer for more than four years.
"Debbie has always been the strong leader that I can depend upon to be well-prepared and have Virginia Western as one of her top priorities. To be candid, she is my 'Rock,' " said Dr. Robert H. Sandel, President of Virginia Western. "As we all know, she loves the college, faculty, staff and students. It has been a focal point of her life. I value her and her warm friendship and it's been a pleasure to spend time with her at any occasion."
Yancey's relationship with Virginia Western began in 1996, when she became a student as well as a part-time tutor. She completed an associate's degree in Accounting with cum laude honors in May 1997, receiving another associate's degree in Management, again cum laude, in December of that same year. She received a third AAS in Banking & Finance from VWCC in 1998. She received her BA in Accounting from Radford University in 2000, and she achieved a Master's of Business Administration from Averett University in 2003.
"Debbie is an amazing lady who has set an example for all of us with her dedication and love of Virginia Western and our mission. She leaves us with a high standard to live up to in her honor," said Dr. Elizabeth Wilmer, Vice President of Academic and Student Affairs.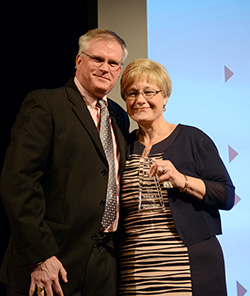 Yancey became an adjunct faculty instructor in 2003, moving to full time within a few years. She continued to teach until 2014, when she became Dean of BTT.
"Debbie Yancey set the example as an Academic Dean at Virginia Western. She was a great source of inspiration not only for students, but also to her fellow staff and to the college as a whole. Her dedication and commitment is without question," said Carole Graham, Dean of the School of Health Professions. "Debbie promoted teamwork and inspired excellence. The strength and motivation she has shown throughout her years at Virginia Western should inspire and motivate us all to work harder and achieve our potential. I value the five years we shared as fellow deans and as friends. In my eyes, she is a hero."
In 2015, Yancey became the Virginia Western Educational Foundation's Distinguished Alumni of the year. The Educational Foundation is establishing a scholarship in honor of her career at the college and the impact she will continue to have on students. Employees as well as non-employees can donate to this scholarship fund by contacting the Educational Foundation or visiting: www.virginiawestern.edu/foundation.
"Working with Debbie has been such an inspiration. Her hard work and determination has had a positive impact on all aspects of the college," said Amy Anguiano, Dean of the School of Liberal Arts and Social Sciences. "We will not be the same without her."
Yancey has helped countless students reach their life goals through the years and her commitment to student success is nowhere more evident than in her Suits for Students initiative. Striving to best prepare students for their futures, Yancey had her students undergo "mock real-world interviews." The exercise required students to actually prepare and present themselves for an appointment with a new employer.
Knowing that dressing for success is not always possible for everyone, Yancey collected suits for the students to borrow if needed. To do so, she gathered donations or purchased the suits herself. These suits have since been donated to the Hall Associates Career Center on campus to continue to help Virginia Western students make the transition to real-world success.
"Working alongside Debbie Yancey has been the opportunity of a lifetime," said Amy White, Dean of the School of Science, Technology, Engineering and Mathematics. "Debbie has remained committed to academic excellence and to the mission of VWCC in the face of unimaginable challenges associated with declining health. Her perseverance and courage inspire us all, and VWCC is so much better because of her!"
Yancey has been a driving force behind the expansion that has begun at the Claude Moore Educational Complex in downtown Roanoke to house the growing Al Pollard Culinary Arts Program. She has worked closely with the Roanoke Higher Education Center, the residents of the historic Gainsboro neighborhood, the Virginia Western Educational Foundation and many more to ensure the program's chefs and its students have the resources they need to succeed.
She helped lead the efforts for the culinary arts program to become nationally accredited by the American Culinary Federation.
"Debbie proved invaluable to the culinary program. Debbie pushed very hard for the new culinary building, while pushing forward with the current building, renovations and program. Anytime she found something not to her liking, she spoke up and made sure it was done correctly," said Chef Jim Zeisler, program head of the Culinary Arts Program. "Debbie has a vast knowledge of electrical work, and in some instances, she was telling the building electricians what they needed to do. She was unyielding to the contractors and everyone else involved in the new building. If it was not just the way she wanted it, she let them know by no uncertain terms. In the end, this building will be all because of Debbie and her incredible efforts, strong will, and vast knowledge of building construction."
Yancey's impact on Virginia Western and its students will be felt for many years to come. Although all her colleagues could not share their thoughts for this story, they are united in their resounding love and respect for her.
ADDITIONAL QUOTES
"I have known Debbie and her husband Steve for years. Both are wonderful people with hearts of gold and personalities to go with it. Both Debbie and Steve are all about family and some of the happiest conversations we've engaged in have revolved around family trips and excursions they have taken. As it relates to illustrating 'Debbie as the Dean' at Virginia Western it is simple, her being here makes me smile. Whenever I have occasion to meet and talk with Debbie either in her office or around campus, I have always found it beneficial to focus on her face when she speaks. Not just mere eye contact mind you, but her expressions. I continually know where I stand and how I should maneuver based on her face. I seem to know whether she is supportive of what I am saying, skeptical of what I am saying, or whether she thinks I am 'full of it.' All of this just from her face. She is a book of a thousand volumes and is always offering me a perspective of benefit. At Virginia Western, she has built a very strong team and her loyalty to that team is unmatched. She is a faithful friend, a trusted colleague and for me is the standard bearer for strength, resolve and courage."
-Craig Harris, Chief of Virginia Western Campus Police
"The Rock, Iron Lady – are two names that I often called Debbie Yancey. She would laugh, but I was serious. Debbie was a take charge, get it done manager who would tackle any assignment and complete it to perfection. During my time with the college, I witnessed Debbie's promotion from adjunct to full-time faculty, to Assistant Dean and to Dean. Having graduated from Virginia Western, where she also worked as a work-study student for the accounting department, Debbie 'grew up' at Western and explored new pathways. Debbie's office door was always open never turning away a student, faculty, staff or guest with a question. She exemplifies strength, empathy, bravery, dedication, results and action-oriented, warm personality and she is the ultimate team leader. Her shoes are not easily filled."
-Sandy Shelton, Office Manager, School of Business, Technology and Trades
"I've had the pleasure to work with Debbie at Virginia Western for more than six years, and I've never met anyone stronger in their dedication to the success of the college and its students. Even when times have been the most difficult, she has never stopped fighting for what she believes will best support our students. Her husband Steve has been strongly with her every step of the way. Debbie will continue to be a great shining light for the college."
-Josh Meyer, Director of Marketing and Strategic Communications
"Debbie is not just a great friend, but a truly outstanding dean. She is someone that I look up to, and someone who has been an exemplary mentor to me, as I am sure she has been to others. I respect and admire her true leadership and dedication to her team! Debbie has taught me many things for which I will always be thankful. She has taught me to have strength, grace, tolerance and mostly, patience. I cannot thank Debbie enough for always providing me with the support and encouragement, when I needed it the most. It has been an honor and a privilege to be a part of Debbie's team. Debbie: you have a KIND HEART, a FIERCE MIND, and a BRAVE SPIRIT!"
-Kim Ellis-Littlefield, ITE Program Head