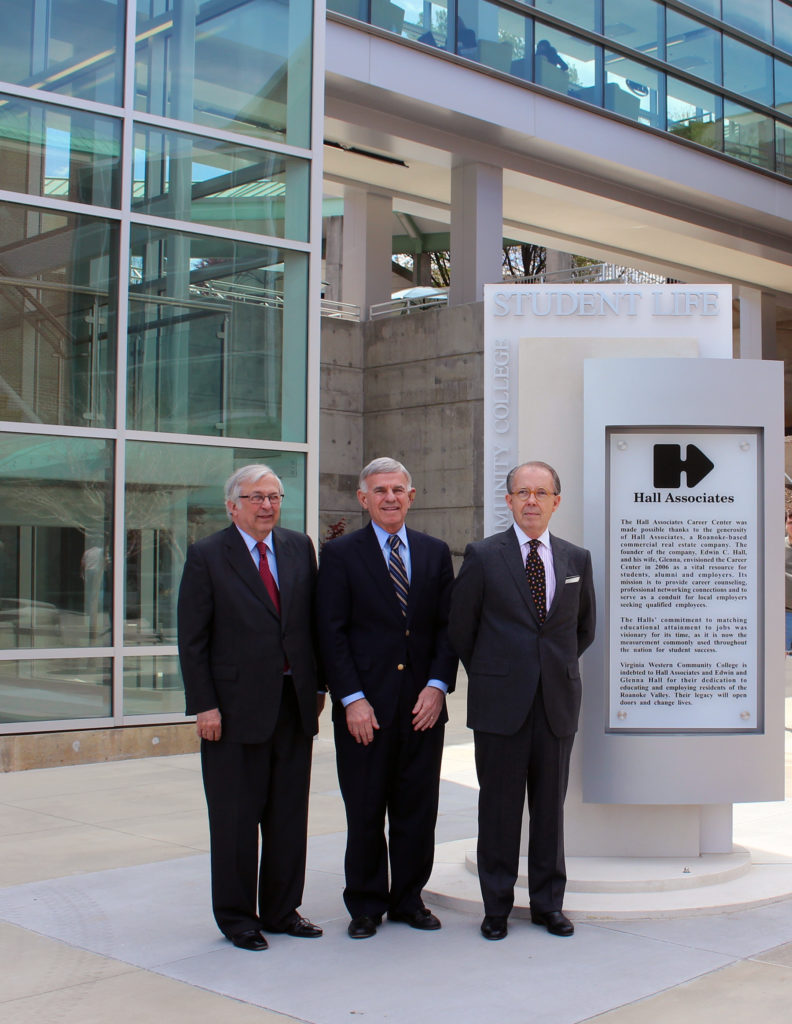 Virginia Western Community College and the Virginia Western Community College Educational Foundation have dedicated a new sign in front of the Student Life Center to honor the generosity of Hall Associates, a Roanoke-based commercial real estate company, and Edwin C. Hall and his late wife, Glenna.
The Halls envisioned the Hall Associates Career Center, which is located on the second floor of the Student Life Center, as a vital resource for students, alumni and employers. Founded in 2006, its mission is to provide career counseling, professional networking connections and to serve as a conduit for local employers seeking qualified employees.
An unveiling ceremony was held April 12 following the Educational Foundation Board of Directors meeting. Hall is a long-time member of the Board of Directors and a past president.
"Ed and Glenna have made an indelible impact upon the lives of students at Virginia Western," said Dr. Robert H. Sandel, President of Virginia Western. "The Halls foresaw the need for a center that would link educational attainment to jobs. The assistance that is provided at the Hall Associates Career Center is preparing students for the workforce and elevating the regional economy."
The Hall Associates Career Center provides free assistance to Virginia Western students and alumni in preparing for employment and connecting with local employers. The center manages internship and job shadowing opportunities, resume reviews and interview training, employer resources, a wide range of events such as career fairs and much more.
"Establishing the Career Center was important to us because of the job opportunities it provides to students," Mr. Hall said. "In providing these services, we can continue to see 85 percent of Virginia Western students stay in the Roanoke Valley, making a significant contribution to economic development."
To find out more about the Hall Associates Career Center, visit: www.virginiawestern.edu/careercenter/.