The Virginia Community College System (VCCS) updated the MyVWCC portal and Multi-factor Authentication (MFA) is now available to all students, faculty and staff to add another level of security to protect your information.
Set-up instructions can be found below, and answers to frequently asked questions can be found here.
What if I missed the enrollment deadline?
If you have not enrolled in MFA, you will be automatically enrolled in the MFA Email Authentication on March 1, 2022.
What will I see when I log into MyVWCC on March 1, 2022?
If you did not choose your own authentication method, when you log into MyVWCC on March 1st you will enter your username and password as normal. You will then see an Email Authentication screen asking you to enter a on-time code. This code has been sent to the email listed with an Email Type of "Other" in your SIS account, not your VWCC Student Gmail account.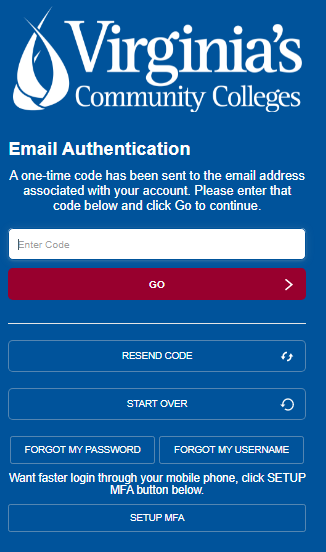 How do I find what my "Other" email address is listed as in SIS? — BEFORE MARCH 1
You can use the following instructions to find or add your "Other" email is SIS. It must be a non-VWCC email address. It must also have the Email Type of "Other".
Click the SIS icon under your My Applications list.
When SIS opens, click the My Student Information button.
From the menu on the left, select Personal Information and click Email Addresses. This will open your list of email addresses.
Verify that your current non-VWCC email address is listed with an Email Type of Other.
If your current non-VWCC email address is not listed with an Email Type of Other, please click the Add an Email Address link.
Select the Email Type as Other, enter your current non VWCC email address in the Email Address field and select Save.
Minimum Requirements
The minimum mobile device requirements for the RapidIdentity app are:
Android
The RapidIdentity app requires Android 8.0 and up.
There are no specific device restrictions published.
Apple
iPhone requires IOS 9.0 or later
Device restrictions:

iPhone 5S or greater
iPad Air or greater
iPod Touch 6th and 7th generation
How to Set Up MFA for MyVWCC
Before starting, make sure you have a mobile number on your SIS account. You must finish the complete setup process once started.
Click the MFA Enrollment tile. You will be redirected to the VCCS's Multi-factor Authentication (MFA) Setup instructions.

Select the MFA option that works best for you and follow the setup instructions provided.
For more information, refer to these Frequently Asked Questions or contact the Help Desk at 540-857-7354 for further assistance.
Multifactor Authentication for Dual Enrollment Students
Due to e-mail and cell phone restrictions at the high schools the VCCS will be automatically setting all Dual Enrollment students up with the Pictograph MFA method beginning March 1, 2022. Click here to see step-by-step login instructions for Dual Enrollment Students to setup their MyVWCC MFA beginning March 1, 2022.